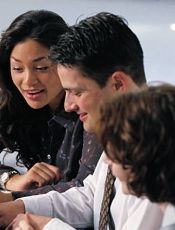 Upon completion our students are prepared for actual work environment with the skill to complete the fob and empowered with the knowledge of why and how it works. Etriniti Plus do not attempt in any way to coerce students into any fabricated association. We required students to learn the ability and skills needed to complete proper procedures and designs in the versatility of real world conditions.
Providing various courses of training:
> Fundamental Networking
§ Essential of Campus LAN networking
§ Enterprise Networking Technology
§ TCP/IP
§ ATM
> Professional Networking
§ IP Routing
§ IP over ATM
§ Voice over Packet Technology
§ Telecommunication Network Design
§ Field Test of High Performance Network Cabling Systems
§ Wireless Networking Technology
§ Broadband Technology
§ Network Management System
§ Storage Networking
§ MPLS Technology
§ Optical Network Technology
> Certifications
§ Cisco: CCNA, CCNP, CCIE, CCSP, etc.
§ Microsoft: MCSE
> Applications
§ Internet for Beginners
§ Programming Languages
§ Java, JSP
§ ASP, PHP
§ C, C++, Delphi, and Visual Basic
§ Databases
§ SQL, Oracle
§ Administration, O&M
§ HPUX, SUN
§ Linux
§ Microsoft